Authors & Disclosure
The present is a proposal created by David, a 28-year-old attorney passionate about technology, finance, and psychology. Self-taught focused on Reading about business and financial management, market management, emotional management, and Blockchain technology. I have carried out other studies in administrative portfolio management, Austrian economics, accounting, and finance, and have always had a strong preference for books on business stories, spirituality, and psychology.
Studied in depth all the technical documents and publications available on LetMeSpeak's social media and the participation and immersion as users in the App, seeking to specialize in it.
I was selected as a volunteer to help improve the app on March 24, 2022.
If this proposal is a success, humanDAO will purchase Letmespeak NFT Assets.
(DOUBLE social and economic impact)
Letmespeak presents an L2E income through Language Learning. This innovation connects us with education and its greatest foundation. It will help us globalize disadvantaged communities, generating a breadth of opportunities to learn new languages and obtain a significant income in their learning process (incentives = motivation). It is also a gateway to the Crypto world for millions of people, extending HumanDao to the Spanish-speaking community.
The community that seeks to learn languages is enormous (1.4B people approximately) that, in a repetitive and reiterative way, emphasizes studying them (constantly acquiring or demanding the product). This fact, mixed with the scholarship system, the incentives, novel burn methods, and the fun dynamics of the game, gives a real and deep utility to the project. (Learning Mining)
Incentives address a key problem of online education: lack of motivation.
We will develop information on:
Tokenomics and Chain Data
Economic model
App Dynamics
Road Map
Team and Partners
Implementation and management ideas
Tokenomics:
Private launch November 2021
Public release February 2022
First mint 10.000 NFT - Network Solana
Supply to Q1 220.000.000 Lstar (Token rewards)
The largest number of tokens distributed in smart contracts, on-chain analysis: Solscan
Future delivery of governance to the community (LMS token)
Economic model:
The economy is tied to a benchmark. It is estimated that the basic average income of people in emerging countries is $240 a month. Therefore the financial and educational impact in these world areas could be enormous (English-Technologies).
Its economy is simplified, but very sophisticated managed through Oracle. The purchase of NFT is made directly in USDC, which gives more fluidity to the treasury. The exciting burn methods and the real fun and educational utility make it promising in the long term.
Daily-earnings are limited by character energy100🔋, which can be fully spent in 40 to 60 minutes, the perfect time to learn languages every day. You can play 1 to 4 NFT characters on 1 account on 1 device (1 NTF = 1 Scholar). Each character has its own stats, progress, daily energy, and other properties. This was designed to allow families to play together on the same device while tracking each player's progress separately. There is no lock-in period for the delivery of incentives…
Expanding the economy through the system of NFT scholarships or rentals (simple and intuitive) allows real-time tracking of funds generated, as well as educational results of the scholarship holders and the financial results in real-time. (There is no limit to the number of NFTs held), Invite (breed) of characters is allowed. All NFTs will have 6 invite per character.
There are no penalties for incorrect answers. If the learner makes a mistake, energy is not lost, they don't lose tokens, and they can try again. This approach eliminates the advantage of people who already know the language compared to those just starting. Everyone can spend 100% of the energy daily and get 100% of the rewards; it only takes a little longer for a newb to do it. For experienced learners, the daily energy of each NFT character can be fully expended in 30 to 40 minutes.
The expiration limit of the characters or VISA is perhaps one of the most important attributes. It allows to better predict the economy and its management, along with the other burn methods. The time available to earn tokens (VISA) ranges from 150 days to 180 days for the most convenient NFT for the Dao.
Developed on Solana's Blockchain network, allowing microtransactions and other benefits of its specialized network for P2E.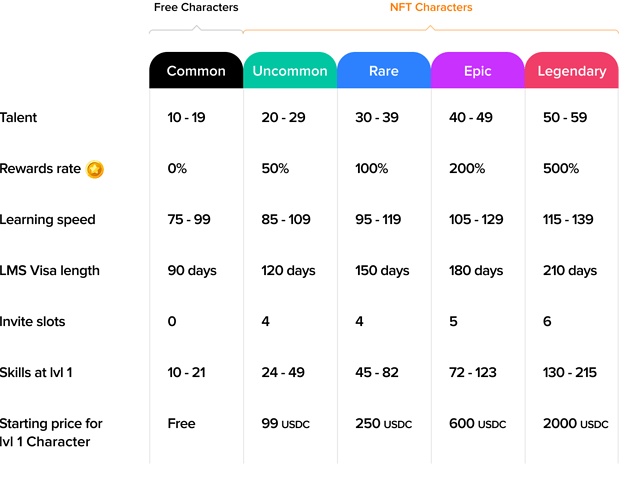 1
*
Economic model: Learn & Earn. 1.4bn people are learning English. | by Letmespeak.org | Medium
Burn methods:
Sale of NFT in the market at a 3.5% fee to Maker.
Character (Visa) expiration depending on the NFT between 150-180 days (rare-epic).
Invite (breed) fees
Discussed on possible Discord (ideas) for burn methods such as: Fee for travel to another city within the game, Rest fee in plots or lands to recover energy, in PvP models.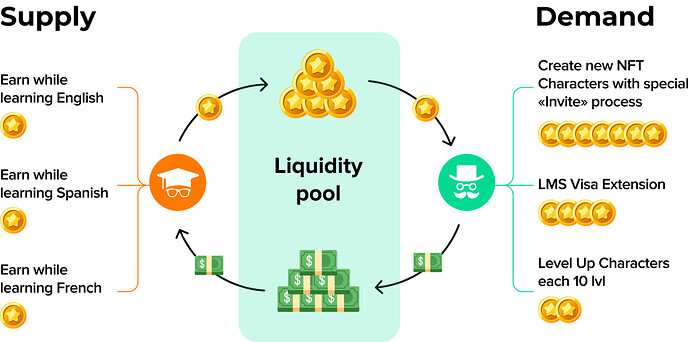 2
Invite Fees (Breeding):
On the first invite(0) of the Type Rare the learner gets a discount on the invite of up to 60% in relation to the direct purchase of the character and 56% for the Type Epic, with a blocking period of 3 days for the next invite. (Price Lstar actually: ~0,025)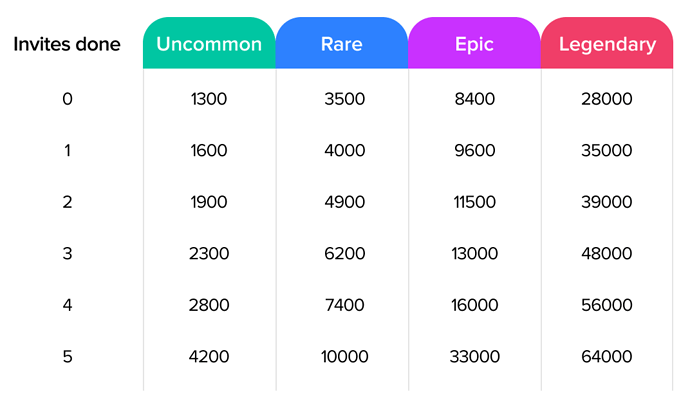 3
*
Invites: Engine of User-Driven Economy | by Letmespeak.org | Mar, 2022 | Medium
App Dynamics
How does the scholarship system work?
It is on track to be launched by March 2022. I have been following up on the videos and information provided on the draft proposal. It promises to be very intuitive and easy to follow for scholars.
The game is available for iOS (App Store rating 4.8 out of 5) and website; for Android, it will be available in Q2 2022. Each NFT takes a journey through a story, starting with the arrival at the airport in NYC, USA, in which you will meet different characters living several funny stories along the way. To get the trip, you must purchase the VISA of each NFT.
It has a professional learning dynamic, covering all areas: Vocabulary, Grammar, Listening and Conversational (Speaking), using spaced repetition learning techniques, communicative language teaching methods, speech recognition technologies, and developing their own unique learning content focused on speaking practice following an interesting story with real-life scenarios.
Highly engaging, fun, and rewarding design. Seeking to transform the EdTech sectors. Becoming the industry-standard model for language learning on the Web3.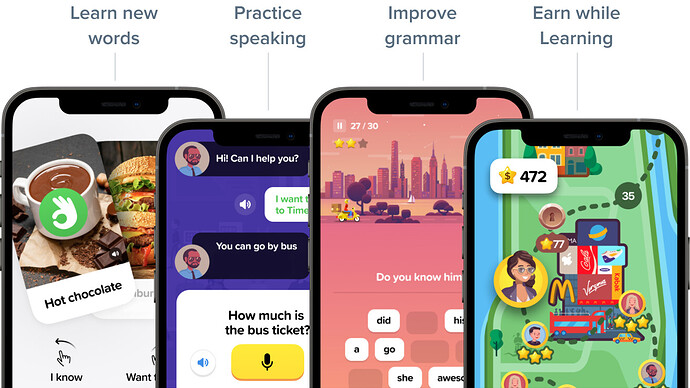 4
Road Map:
Currently:
Available for iOS on 1 February 2022
Invite released on 15 March 2022
Web browser to be released in March 2022
Scholarship system in March 2022
Available for Android in April 2022
Next:
White Paper and audit preparing (Chat general discord LetMeSpeak for moderator aru.)
Working on learning games in the PvP model, rankings, and tournaments within the App.
New types of NFTs: Lands, Real estate, Outfits…
Implementation of new languages Q4 2022 (Spanish, French…)
Delivery of governance through the LMS token
The team:
"Behind letmespeak.org is a team of 20+ people with experience in EdTech, DeFi, and investment banking. The team's experience includes 10 years of building language learning Apps enjoyed by tens of millions of people, 15 years of investment banking at Goldman Sachs and Merrill Lynch, 20 years in philanthropy, and 4 years of reinventing business models using blockchain technology."
With experience in:
Goldman Sachs, Merrill Lynch

Bright, Lingualeo (Providers of neurolinguistic learning data and information)

Maps.me (Mapping system with Defi functionalities)

Oxygen (is a DeFi prime brokerage service built on Solana and powered by Serum's on-chain infrastructure)
Implementation and management ideas
We are completely unaware of the method or model of scholarship holder management implemented by HumanDAO or if they strictly carry one, but we use all the available office automation and coordination tools together with the necessary information for human capital management, following not only the economic development of the scholarship holder but also their progress and use of the scholarship (learning), thus avoiding that it is used only to claim incentives (The learner can apply for another type of scholarship for this purpose).
We structure policies for both placement and loss of a scholarship, which allow for clarity and proper management of the scholarship to have a real benefit on the scholarship (learning).
The value of the Visa renewal may or may not be 50/50 for both parties in the Lstar token (Scholar/Dao), showing the scholarship holder's commitment and reinvestment in themselves.
Budget, Asset Plan, and Current Performance
Based on images 1, 2 and 3 of the economic model session and having an economic model currently active and anchored, we can determine the budget for the amount of NFTs to acquire (1 NTF = 1 Scholar). This activity should be linked to the capacity of the initial managers to manage. Management can be done in a dosed or progressive manner and low capital and be scaling for proper placement of scholarships and talents for management. For example, the pilot test:
https://market.letmespeak.org/#/
100 Scholars x ~$300 NFT Rare talent 38-39 = $30.000

50 Scholars x ~$600 NFT Epic talent 41-42 = $30,000

Total = $60,000
The ROI to date (March 2022) for each NFT is ~33 days. Remember that the time available (VISA) to continue earning tokens ranges from 150 days for Type Rare to 180 days for Type Epic.
It is possible to be flexible in the percentage of incentive payout between the two types of NFT by standardizing the incentive payout independent of character rarity and generating different flows for HumanDAO's treasury (40% Type Rare and 65% Type Epic incentive payout). Said flexibility translates into more expansion and new scholarships. And following the DAO standard of 10% for the management team.
Each NFT Rare: currently receives ~$8 per day:
50% Scholar: $4.00
40% HumanDAO: $3.2
10% Manager: $0.8
Each NFT Epic: currently receives ~$16 per day:
25% Scholar: $4
65% HumanDAO: $10,4
10% Manager: $1.6
Reserving more funds in the Lstar token for the purchase of new and other types of NFTs and for replication and any other reinvestment strategies that benefit all parties will decrease the selling pressure on the token. Less pressure will prevent the Letmespeak project from bleeding out and motivate everything for the long term, with DAO taking a certain percentage of biweekly or monthly profits to convert into Hdao.
Analysis carried out based on the most suitable characters for the Dao and expansion to more academics.
5
We identify two problems and two possibilities of solution of the hand of one DAO:
Countries Spanish-speaking communities with high unemployment rates and little opportunity, especially now that the presidential campaign and the foreign investment, leave the country in droves.
The need to learn English for broader opportunities and a better life, and along the way, earn incentives to help their families.
Others previously exposed: diversify assets held by the treasury, a new source of income for the Dao, new opportunities for academics,
Looking at its innovative model, underlying economics, blockchain logic, and guided by our common sense, it is clear that we are facing a great innovation and investment opportunity, not only economical but also of great social impact.
Are the objectives aligned with HumanDao and all builders?
LetMeSpeak seeks to contribute to three United Nations SDGs: End Poverty, Quality Education, and Reduce Inequalities.
Can LetMeSpeak become the standard for learning English on web 3.0?
After the summary analysis of the project in this document and the in-depth analysis by the disclosure authors, our common sense could answer this with a resounding YES.
Many schoolteachers, language applications, and others in the profession think it's ridiculous, that it makes no sense, and has no future. But that's just what we wanted to hear.
Is it as good as it looks? Will its economics be stable or scalable in the long term?
This is a difficult question because of the history so far in the Play to Earn world. However, we are still learning and have learned to move better, but it could be a hidden gem in GameFi's world.
Approve $60.000
Reject
Needs revision
"Copyright and related rights waived via Creative Commons CC0 1 2"